Recent Posts
91
« Last post by Squishy on October 07, 2017, 12:15:11 PM »
No big bore kit :(?
92
« Last post by TJS on October 07, 2017, 11:46:00 AM »
93
« Last post by greg737 on September 19, 2017, 07:20:46 PM »
Very nice work, great looking Bandit.

Your workmanship is superb, skill and attention to detail is obvious.
94
« Last post by ventYl on September 06, 2017, 03:10:53 PM »
For quite a long time I owned both GSF400 and GS500 and I think that GS light won't fit in at all. GS has narrower and more rectangularly shaped tail section (at least the 93 version, maybe post-2000 has wider fairing as those later GS500s have larger fuel tank).

I would simply replace light source in DRLs. Either find warmer diodes or completely remove original light source and install something like warm LED stripe.
95
« Last post by TJS on September 04, 2017, 01:49:55 AM »
96
« Last post by Volumetrik on September 03, 2017, 11:42:42 PM »
Round SIX

Lets GOOOOO
Painted and installed the brackets I don't like to get a final view of everything.
Closeup of the gap I was talking about. I also don't like the color. I've been through two different silvers...
Quite big if you ask me.
Clear view of the back of the instrument bracket. I am quite proud of this turned out.
Cockpit view.
And so it begins. Bought a 3/8 thick aluminium plate to do the brackets. These will be either the fourth of the fifth and FINAL iteration of the headlight brackets.
At this point, I was looking for a method of either coating or finishing the brackets in some kind of way so they looked OEM. I ended up with a brushed finish.
I tapped a square piece of sandpaper to the table and place a straight wooden block on top of it. I used it as a guide and slid the bracket back and fourth pressing on the paper and using the wood piece to ensure I was making straight passes. It was very effective. Took me about 20 minutes to do both.
This is the height I want the bucket to be.
I started to drill the bracket and upping the position bit by bit.
Still not enough.
Gap closed and OEM like. Happy about this height. It's tight but nothing is rubbing and there is space for everything.
To hold the higher bolt for the bracket I had to weld an extension onto the top of the existing bracket and trim all the unneeded fat.
Painted up and installed.
Installed with some Belmetric hardware. I highly recommend them for SS metric hardware. They ship super quick and each bolt types were in a seperate sealed bag with identification. I have never seen anything like that before.
Overall look with the light installed.
And we are done guys. It took me about twice as long as I thought, much more headlight brackets that I wanted and a bunch of swearing. I personally think this is the best looking USD fork swap on any bandit that I've seen. I really tried to get that OEM look and feel.
Here are some beauty shots all cleaned up.
And some action shots in rural Vermont !
With my friends Bandit 1200


I hope you guys liked this thread, I am very proud of the work and upgrades I have done to this bike. I also hope the pictures and descriptions were helpful !
I have of course new plans for the bandit but I will make new threads for those when the time comes !
GSXR 750 rear shock completely rebuilt and re-valved from Racetech coming soon, GSXR1100 swing-arm swap with 750 rear wheel in the works too. If you guys have any questions, feel free to contact me or post here.

Maxime
97
« Last post by Volumetrik on September 03, 2017, 10:42:19 PM »
Round 5

More stuff done and more to go
Started making brackets for the headlights. I think I'm at the third of fourth iteration at the moment.
The two brackets together before bending.
Bending around an aluminium bar stock to prevent marking from the vise teeth.
I cut little locating grooves within the bracket to locate them correctly while I was placing the headlight. I then used the markings to drill holes and secure the right side. Did the same on the left.
Two sides fixed.
Clear view of the inside of the instrument cluster bracket.
View of the light and its position.
To be quite frank, I was pretty gutted when I finished these. They were very well made and identical on both sides but they were too low. As you can see, there is a very big gap between the top of the light and the bottom of the instrument cluster. The steel sheet I used was also to thin to my liking. It didn't have that OEM quality I was after.
I moved on to the speedometer gearing to clear my head. I had to rotate inwards the gearbox because the stock position is way to outwards and is super ugly. I opened a hole the size of the gearbox and had it rotated towards the inside. The only thing now is that there is no way to attach it to the cluster.
So I welded tabs on the back of the bracket to secure the gearbox in place.
I then added bondo to smooth out the whole exposed portion.
Sanded and painted.
Installed in place. You can see that I added extra welding to help with retaining the bondo.
I went back to the brackets to finish the whole. Even if I don't like these, I am finishing them to at least see a finished product.
I marked up the regions where the cables were rubbing with a sharpie. I also welded the brackets in place + sandblasted them.
Added a reinforcement to the left bracket because I cut quite a lot of metal out of it.
As you can see, I also added the tabs for the turn signals.
Bit of paint. Tried to get an aluminium finish but not quite there.
Also added a braided cable protector to the wiring of the cluster.
Sandblasted and painted the tail tidy bracket I made last fall.
Here it is installed with the LED turn signals. I will probably switch these for some brighter ones for next season.
Thanks for reading ! There will be big changes to the headlight brackets (again)

but this time it will be final

98
« Last post by Volumetrik on September 03, 2017, 08:39:34 PM »
Here are some pictures of my 1991 GSF400 Bandit.
- 1994 GSXR 750 front end swap
- Tail tidy with license light
- Custom front brackets with aluminium triangles for the light
- 93-95 GSXR 750 instrument cluster
- HEL custom length braided brake lines
- LED turn signals w/ LED relay
- Renthal handlebar w/ riser conversion (top yoke drilled)
- Temperature sensor conversion for temperature gauge on gsxr cluster
- Bar end mirrors
99
« Last post by Volumetrik on September 03, 2017, 08:28:59 PM »
Hey TJS,
I am currently accumulating parts for a 91 GSXR 1100 swing-arm swap. I think you have one too ? Mine really looks like the RF900 other than being bare aluminium. I also bought a 92 GSXR 750 rear wheel.
Have you tried aligning the sprockets so far ? Had any problems ?
One problem that I foresee is the trust arm or torque arm for the rear caliper. The bandit has an attachment point on the swing-arm itself but the gsxr one does not. I've looked at pictures of GSXR's and they attach bellow the swing-arm pivot point straight onto the frame.
I think I will do the same. Thinking about welding a plate to solidify the area and drill a pivot point bellow the swing-arm attachment point.
How are you going to proceed on yours?
Best of luck,
Max
100
« Last post by Volumetrik on September 03, 2017, 08:17:29 PM »
I did a tail tidy last year and had to install an aftermarket light for the lisence plate. It works well, but it's a blue-ish light and it kind of clashes with the age of the bike.
I thought about this and I started looking for compatible headlights. My buddy had a gs500 from the same era (1993 I believe) and his tail light has an integrated lisence light (clear plastic under the tail light section that illuminates using the DRLs.
Looking on ebay, it seems that they both mount on the same tabs and are of similar shapes.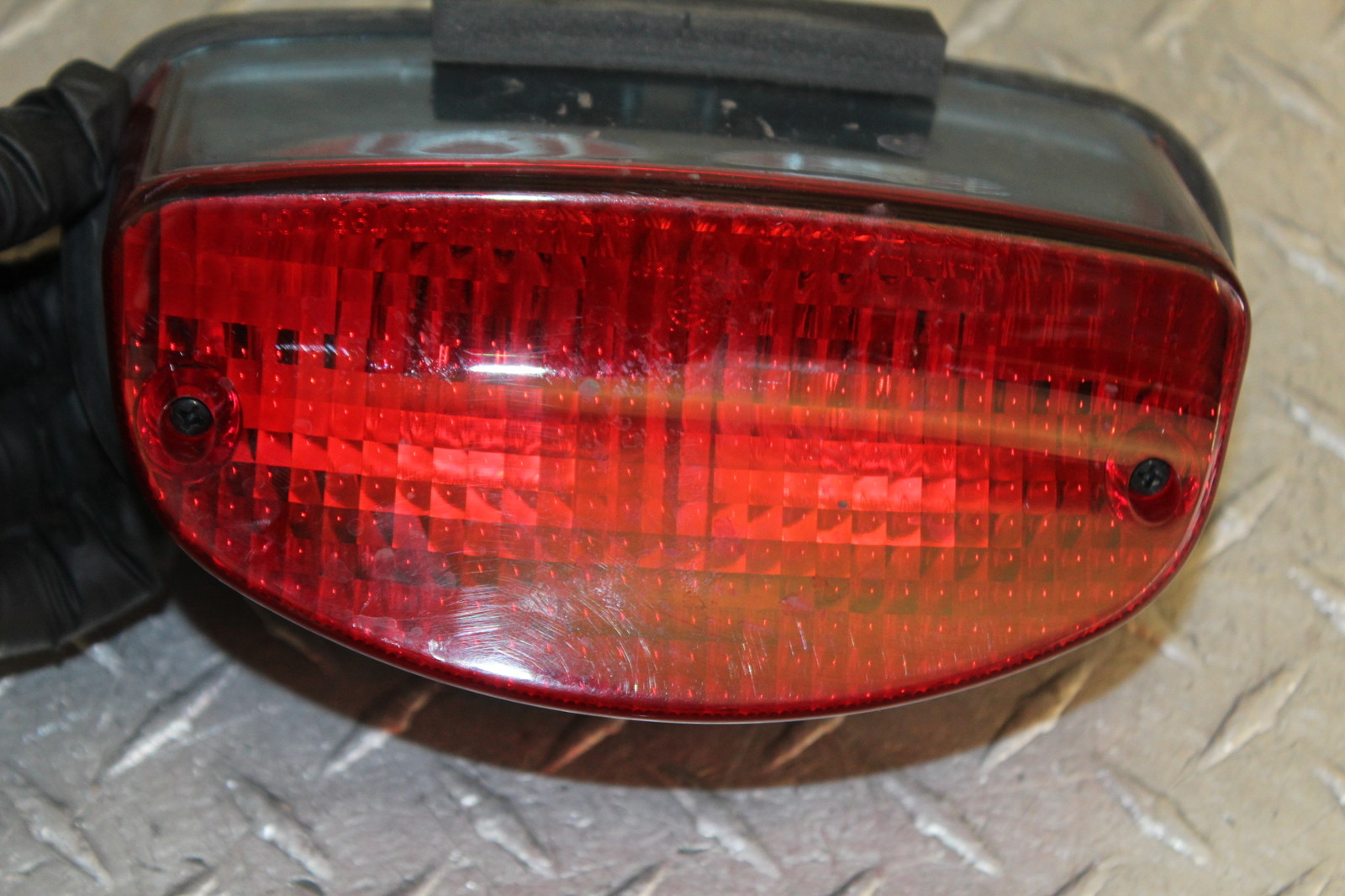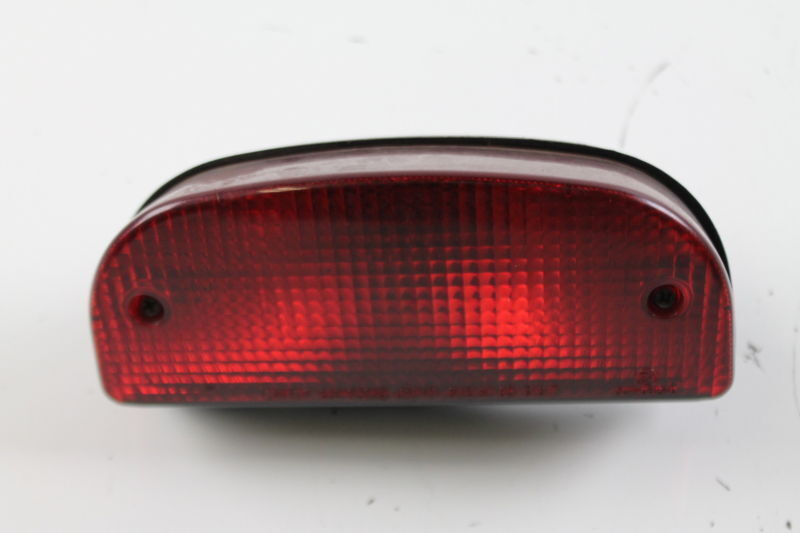 I'm thinking about picking one up to try, have any of you guys tried this before ?